id="top" Taxonomy, nomenclature, and seasonal divisions used follow the American Ornithologists' Union (AOU) Check-list of North American Birds, 7th edition, 1998.  Sp = spring ( 1 March to 30 May), Su = summer (1 June to 31 July), F=fall (1 Aug to 30 Nov), W = winter (1 Dec to 28 Feb).
Click below to skip to:
Agricultural Fields, Aerial, Desert Scrub, Coniferous Forest, Oak Woodland, Rocks/Cliffs, Woodlands (Joshua and Pinyon-Juniper), Sagebrush Scrub, Parks/Towns, Ponds/Lakes/Reservoirs, Riparian.
| | | |
| --- | --- | --- |
| Agricultural Fields | | |
| Northern Harrier | | Western Kingbird (Sp, Su) |
| Swainson's Hawk (Sp, Su, F) | | Horned Lark |
| Ferruginous Hawk (F, W, Sp) | | Common Raven |
| Rough-legged Hawk (W) | | Western Bluebird (Sp, F) |
| American Kestrel | | Mountain Bluebird (F, W, Sp) |
| Merlin (F) | | European Starling |
| Prairie Falcon | | Lark Sparrow (Sp, F) |
| Barn Owl | | Savannah Sparrow |
| Burrowing Owl | | Chestnut-collared Longspur (F) |
| Say's Phoebe | | Western Meadowlark |
| | | Back to [top] |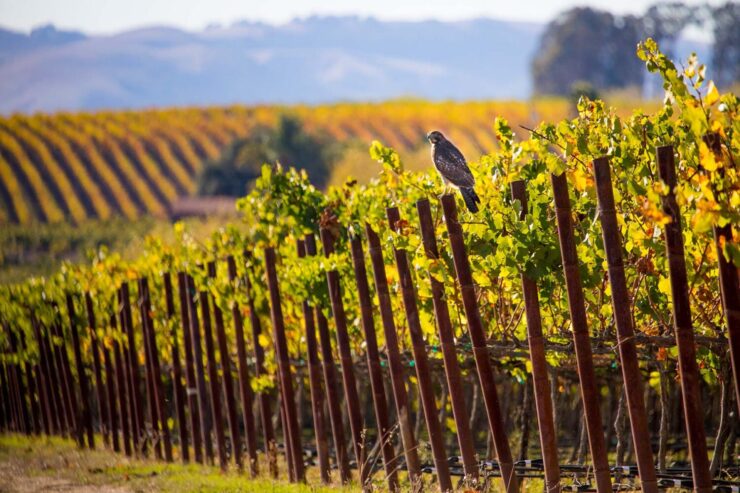 | | | |
| --- | --- | --- |
| Aerial | | |
| Turkey vulture (Sp, Su,F) | | White-throated Swift (Sp, Su) |
| Red-tailed Hawk | | Tree Swallow (Sp, Su, F) |
| Golden Eagle | | Violet-green Swallow (Sp, Su, F) |
| Common Nighthawk (Su) | | Northern Rough-winged Swallow (Sp, Su, F) |
| Lesser Nighthawk (Sp, Su, F) | | Bank Swallow (Sp, Su, F) |
| Vaux's Swift (Sp) | | Cliff Swallow (Sp, Su, F) |
| Barn Swallow (Sp, Su, F) | | |
| | | Back to [top] |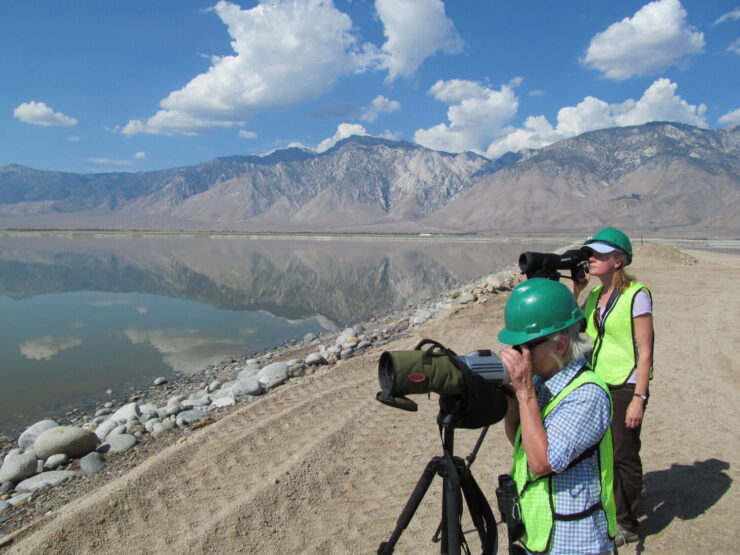 | | | |
| --- | --- | --- |
| | | |
| Desert Scrub | | |
| Greater Roadrunner | | LeConte's Thrasher |
| Common Poorwill (Sp, Su, F) | | Loggerhead Shrike |
| Costa's Hummingbird (Sp, Su) | | Black-throated Sparrow (Sp, Su, F) |
| | | Back to [top] |
| | | |
| --- | --- | --- |
| | | |
| Oak Woodland | | |
| Oak Titmouse | | |
| California Towhee | | Back to [top] |
| | | |
| --- | --- | --- |
| | | |
| Coniferous Forest | | |
| Blue Grouse | | Brown Creeper |
| Mountain Quail | | Golden-crowned Kinglet |
| Northern Saw-whet Owl | | Ruby-crowned Kinglet |
| Williamson's Sapsucker | | Townsend's Solitaire |
| Hairy Woodpecker | | Hermit Thrush (Sp, Su, F) |
| White-headed Woodpecker | | Yellow-rumped Warbler (Sp, Su, F) |
| Olive-sided Flycatcher (Sp, Su, F) | | Western Tanager (Sp, Su, F) |
| Western Wood-Pewee (Sp, Su, F) | | Black-headed Grosbeak (Sp, Su, F) |
| Steller's Jay | | Chipping Sparrow (Sp, Su, F) |
| Clark's Nutcracker | | Dark-eyed Junco |
| Mountain Chickadee | | Cassin's Finch |
| Red-breasted Nuthatch | | Red Crossbill |
| White-breasted Nuthatch | | Pine Siskin |
| Pygmy Nuthatch | | |
| | | Back to [top] |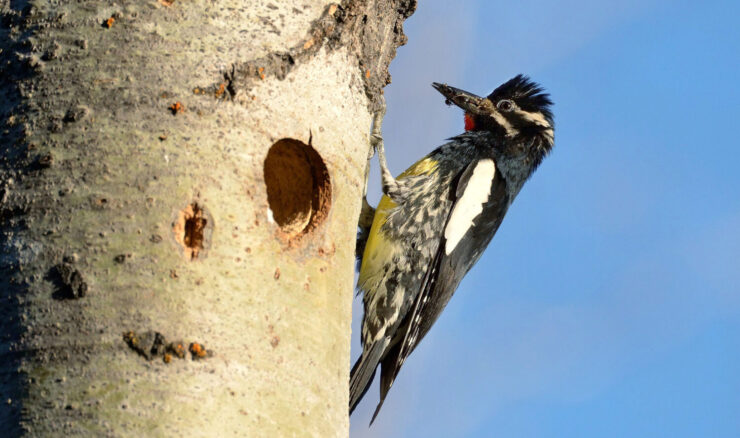 | | | |
| --- | --- | --- |
| | | |
| Rocks/Cliffs | | |
| Rock Wren | | White-throated Swift (Sp, Su, F) |
| Canyon Wren | | Say's Phoebe |
| | | Back to [top] |
| | | |
| --- | --- | --- |
| | | |
| Woodlands | | |
| JOSHUA | | PINYON-JUNIPER |
| Ladder-backed Woodpecker | | Gray Flycatcher (Sp, Su, F) |
| Cactus Wren | | Western Scrub-Jay |
| Scott's Oriole (Sp, Su) | | Pinyon Jay |
| | | Juniper Titmouse |
| | | Plumbeous Vireo (Sp, Su) |
| | | Black-throated Gray Warbler (Sp, Su, F) |
| | | Back to [top] |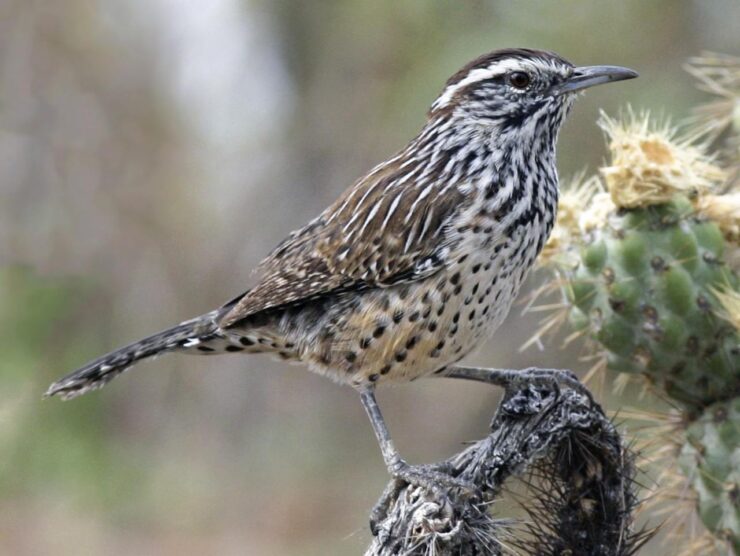 | | | |
| --- | --- | --- |
| | | |
| Sagebrush Scrub | | |
| Sage Thrasher (Sp, Su, F) | | Vesper Sparrow |
| Green-tailed Towhee (Sp, Su, F) | | Sage Sparrow |
| Brewer's Sparrow (Sp, Su, F) | | |
| | | Back to [top] |
| | | |
| --- | --- | --- |
| | | |
| Parks/Towns | | |
| Anna's Hummingbird (Sp, Su, F) | | Cedar Waxwing (Sp, F) |
| Black-chinned Hummingbird (Sp, Su, F) | | Brewer's Blackbird |
| Rufous Hummingbird (Sp, F) | | Hooded Oriole (Sp, Su) |
| American Crow | | House Finch |
| American Robin | | American Goldfinch (F, W, Sp) |
| Northern Mockingbird | | House Sparrow |
| | | |
| | | Back to [top] |
| | | |
| --- | --- | --- |
| | | |
| Ponds/Lakes/Reservoirs | | |
| Common Loon (Sp, F) | | Osprey (Sp, Su, F) |
| Pied-billed Grebe | | Bald Eagle (W) |
| Eared Grebe | | Virginia Rail |
| Western Grebe (Sp, F) | | Sora |
| Clark's Grebe (Sp, Su, F) | | American Coot |
| Amer. White Pelican (Sp, Su, F) | | Snowy Plover (Sp, Su, F) |
| Double-crested Cormorant (Sp, Su, F) | | Semipalmated Plover (Sp, F) |
| American Bittern | | Killdeer |
| Least Bittern (Sp, Su) | | Black-necked Stilt (Sp, Su, F) |
| Great Blue Heron | | American Avocet |
| Great Egret (Sp, Su, F) | | Greater Yellowlegs (Sp, F, W) |
| Snowy Egret (Sp, Su, F) | | Lesser Yellowlegs (Sp, F) |
| Cattle Egret (Sp, F) | | Solitary Sandpiper (Sp, F) |
| Green Heron (F, W, Sp) | | Willet (F, W, Sp) |
| Black-crowned Night-Heron | | Spotted Sandpiper (Sp, Su, F) |
| White-faced Ibis (Sp, F) | | Long-billed Curlew (Sp, Su, F) |
| Tundra Swan (W) | | Marbled Godwit (F) |
| Greater White-fronted Goose (F, W, Sp) | | Western Sandpiper (F, W, Sp) |
| Snow Goose (F, W, Sp) | | Least Sandpiper (F, W, Sp) |
| Canada Goose (F, W, Sp) | | Baird's Sandpiper (F) |
| Wood Duck | | Pectoral Sandpiper (F) |
| Green-winged Teal | | Dunlin (F, W, Sp) |
| Mallard | | Short-billed Dowitcher (Sp, F) |
| Northern Pintail (F, W, Sp) | | Long-billed Dowitcher (Sp, F) |
| Blue-winged Teal (Sp, F) | | Common Snipe |
| Cinnamon Teal (Sp, Su, F) | | Wilson's Phalarope (Sp, Su, F) |
| Northern Shoveler (F, W, Sp) | | Red-necked Phalarope (Sp, F) |
| Gadwall | | Bonaparte's Gull (Sp, F) |
| American Wigeon (F, W, Sp) | | Ring-billed Gull |
| Canvasback (F, W, Sp) | | California Gull |
| Redhead | | Caspian Tern (Sp, Su, F) |
| Ring-necked Duck (F, W, Sp) | | Forster's Tern (Sp, F) |
| Lesser Scaup (F, W, Sp) | | Black Tern (Sp, F) |
| Common Goldeneye (W) | | Belted Kingfisher |
| Bufflehead (F, W, Sp) | | Marsh Wren |
| Hooded Merganser (F, W) | | American Pipit (F, W, Sp) |
| Common Merganser (W, Sp) | | Common Yellowthroat (Sp, Su, F) |
| Red-breasted Merganser (Sp, Su, F) | | Red-winged Blackbird |
| Ruddy Duck | | Yellow-headed Blackbird (Sp, Su, F) |
| | | Back to [top] |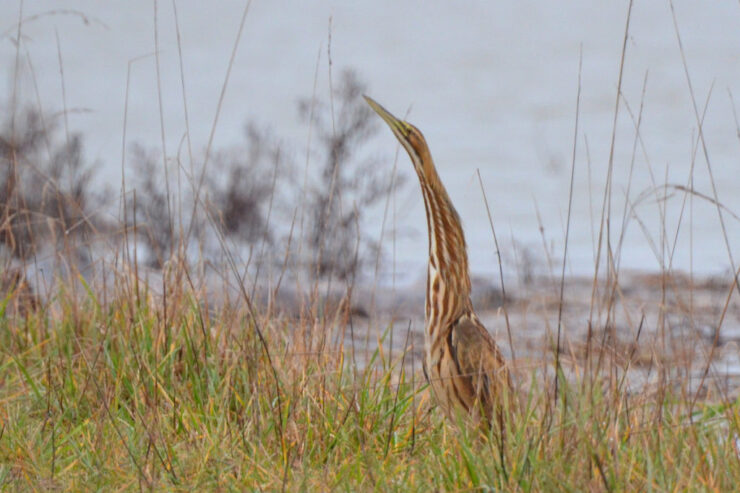 | | | |
| --- | --- | --- |
| | | |
| Riparian | | |
| Sharp-shinned hawk (F, W, Sp) | | Pacific-slope Flycatcher (Sp, Su, F) |
| Cooper's Hawk | | Black Phoebe |
| Red-shouldered Hawk | | Vermilion Flycatcher (F, W, Sp) |
| California Quail | | Ash-throated Flycatcher (Sp, Su, F) |
| Mourning Dove | | Black-billed Magpie |
| Western Screech-Owl | | Common Bushtit |
| Great Horned Owl | | Bewick's Wren |
| Long-eared Owl | | House Wren (Sp, Su, F) |
| Black-chinned Hummingbird (Sp, Su) | | American Dipper |
| Anna's Hummingbird | | Blue-gray Gnatcatcher (Sp, Su, F) |
| Calliope Hummingbird (Sp, Su) | | Swainson's Thrush (Sp) |
| Broad-tailed Hummingbird (Su) | | Phainopepla (Su) |
| Rufous Hummingbird (Sp, F) | | Cassin's Vireo (Sp, F) |
| Red-naped Sapsucker (F, W, Sp) | | Warbling Vireo (Sp, Su, F) |
| Red-breasted Sapsucker | | Orange-crowned Warbler (Sp, Su, F) |
| Nuttall's Woodpecker | | Nashville Warbler (Sp, F) |
| Downy Woodpecker | | Yellow Warbler (Sp, Su, F) |
| Northern Flicker | | Townsend's Warbler (Sp, F) |
| Willow Flycatcher (Sp, Su, F) | | MacGillivray's Warbler (Sp, Su, F) |
| Hammond's Flycatcher (Sp, F) | | Wilson's Warbler (Sp, Su, F) |
| Yellow-breasted Chat (Sp, Su, F) | | Lincoln's Sparrow (F, W, Sp) |
| Blue Grosbeak (Sp, Su, F) | | Golden-crowned Sparrow (F, W, Sp) |
| Lazuli Bunting (Sp, Su, F) | | White-crowned Sparrow |
| Spotted Towhee | | Brown-headed Cowbird |
| California Towhee | | Bullock's Oriole (Sp, Su) |
| Fox Sparrow (Sp, Su, F) | | Lesser Goldfinch |
| Song Sparrow | | |
| | | Back to [top] |